Bilo je to zanimljivo iskustvo. Tri dana boravka u kući, borba sa vremenom i mentorima, a ponajviše sa činjenicom da treba nešto brzo napraviti kako bi neko shvatio šta želim da kažem, odnosno uradim.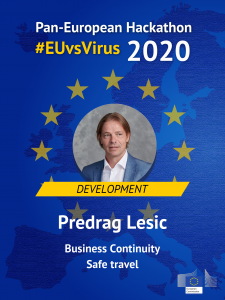 Sama ideja je nastala u trenutku kada je objavljen CoronaThon.me, prvi crnogorski virtuelni hakaton. S obzirom na to da sam suosnivač Digitalizuj.Me, koji je bio jedan od suorganizatora CoronaThona, nije bilo moguće učestvovati na tom hakatonu. Na vrijeme sam saznao za EUvsVirus.org, pa je pala odluka da se ide na evropski hakaton. Ideja je krajnje jednostavna, odnosno problem je očigledan. Industrija prevoza putnika stoji, tj. ne postoji globalno. Samim tim, turizam kao industrijska grana ne postoji. Čisto da vam dočaram o kojim se razmjerama radi, dovoljno je da vam kažem da je procjena da će samo avio industrija izgubiti 250 milijardi dolara. Više informacija o stanju turizma možete odgledati ovdje, izuzetno zanimljiv vebinar u organizaciji regionalnih AmCham-ova. Nego da se vratimo na problem, odnosno rješenje. Elem, fora je u tome da identifikujete zdrave putnike i omogućite im putovanje i eto novca koji se vrti. Na sedam milijardi stanovnika, imamo tri miliona zaraženih, a čitave industrijske grane globalno stoje. Riješi problem i eto poslovne prilike.
Kako riješiti problem? Pa trenutno nema druge nego testirati na virus, šta i radimo globalno. A kad se testiraš, dobiješ rezultate i čuvaš ih u aplikaciji, jer kako stvari stoje, oni koji putuju biće u obavezi da rade više testova u različitim državama.
Alati su pola posla
Prva stvar koja nam je dobrodošla je spisak sjajnih alata koji mogu da posluže za hakaton (neću da trošim vrijeme objašnjavajući da je kompletna komunikacija išla preko Slacka, broj jedan alata za poslovnu komunikaciju danas):
Takođe, možete da probate i NoCode pristup: https://www.nocode.tech/tools

Oduševila me GlideApp jer je toliko jednostavna za kreiranje prototipa da riječi nemam, u pozadini običan gSheet. Malo sam se namučio oko relacija, ali kad sam skapirao kako se prave, sve ostalo je bilo prilično jednostavno.
Mentori, mentori, mentori…
Subota je uglavnom prošla pokušavajući da dođemo do mentora i svako ko nam se javio, pomjerio nas je sa mjesta. Naknadna pamet bi bila: žao mi je što nismo još i više mentora cimnuli, posebno iz sfere World Bank i većih globalnih institucija koje se bave finansiranjem projekata.
Ipak smo imali jedan dobar kontakt i dobili smo priliku tri dana poslije hakatona da razgovaramo sa EIT Health, koji u principu guraju inovativne projekte iz oblasti zdravlja. A ova ideja ima dodira sa zdravljem, tu još uvijek pokušavamo da dobijemo drugu rundu povratnih informacija.
Konkurencija nas je pobijedila
Jedinu konkurenciju smo imali u projektu Open Gate, koji su tehnološki bili daleko ispred, jer kažu da planiraju da koriste AI za provjeru identiteta i blockchain za čuvanje podataka. Koliko god da im skidam kapu po pitanju provjere identiteta uz pomoć Tech5, isto toliko sam sumnjičav prema blockchainu za čuvanje podataka. Update: U međuvremenu su izbacili blockchain iz upotrebe jer im je to očigledno neko savjetovao.
Da je ideja jako dobra govori sama konkurencija: We will be continuing our development of the platform, publishing the white paper with UNDP, do proof of concept in Sudan with the Worldbank and start engaging more stakeholders for funding, grants, NGO sponsorships to get the first year of funding, and build a sustainable long term transaction based model and membership based revenues.
Jesmo li mi mogli biti tamo gdje su oni? Jesmo, jer nas je isti čovjek kontaktirao. I njih i nas. Presudila je Tech5 komponenta. Poslije toga, njihov razgovor sa mentorima je po našoj procjeni otišao u potpuno drugom pravcu te su izabrani kao drugo najbolje rješenje u kategoriji "Other". Pogledajte rezultate ovdje.

Ovoliko vremena posvećujem konkurenciji iz jednog razloga – ideja je bila dobra, ali je fokus bio na pogrešnoj funkcionalnosti. Nije bilo potrebno objašnjavati kako sakupiti podatke, već kako voditi računa o identifikaciji – sve ostalo je tehnikalija.
Percepcija vrijednosti
Kad se sve završilo, prelistavajući pobjednička rješenja, shvatio sam da postoji velika razlika u percepciji problema i rješenja. Evo nekoliko primjera.
Linistry:  … a safer retail: limit the number of customers in-store and manage queues at the entrance. Linistry provides a digital solution.


Kod nas se ovaj problem rješava trakama ispred prodavnice, a zakazivanje se uglavnom radi telefonom. Istina, nekada je lakše dobiti taksi preko aplikacije KlikTaxi, ali recimo da to i nije baš potrebno ako želim da pođem kod frizera. No, oni su pobijedili. 🙂
Vilage: We offer a platform that allows parents, teachers and children to connect with like minded peers through a shared economy system letting the world be their classroom.

Izgleda kao da će Facebook ostati bez korisnika. 🙂
And the winner is…
Na kraju, moj favorit i moj pobjednik: Sewers4COVID.

Ideja je sjajna! Malo mi je sumnjiva realizacija, ali stvarno nisam osoba koja može bilo što da komentariše, jer baš blage veze nemam koliko je komplikovano detektovati virus u otpadnim vodama. Ljudi kažu da je moguće i da to već rade. Da im vjerujemo. 🙂
Još malo alata
Za kraj, još malo alata – možda nekom pomognu. 🙂